Luxury travel and personal style have a symbiotic relationship, intersecting to create high-end experiences and products for affluent individuals. A travel wardrobe should reflect not only the temperature, but the freedom and simplicity of your destination. Easy, elegant, lightweight pieces that travel well and look great in hot places are just the ticket.
Related: What does luxury mean to you?
As owner of Md Bespoke, a luxury clothing and lifestyle brand in Toronto, when I recently visited the Excellence Oyster Bay Resort in Jamaica for a winter holiday, I knew just what to pack.
Personal style tips for your next luxury vacation
Jamaicans always say "welcome home" to new arrivals. When I touched down in February, I was finally home!
When I arrived at the luxury adults only Oyster Bay resort, their warm, friendly staff greeted me with a glass of chilled champagne. Throughout my stay, the truly excellent Excellence staff assisted me with absolutely anything I needed.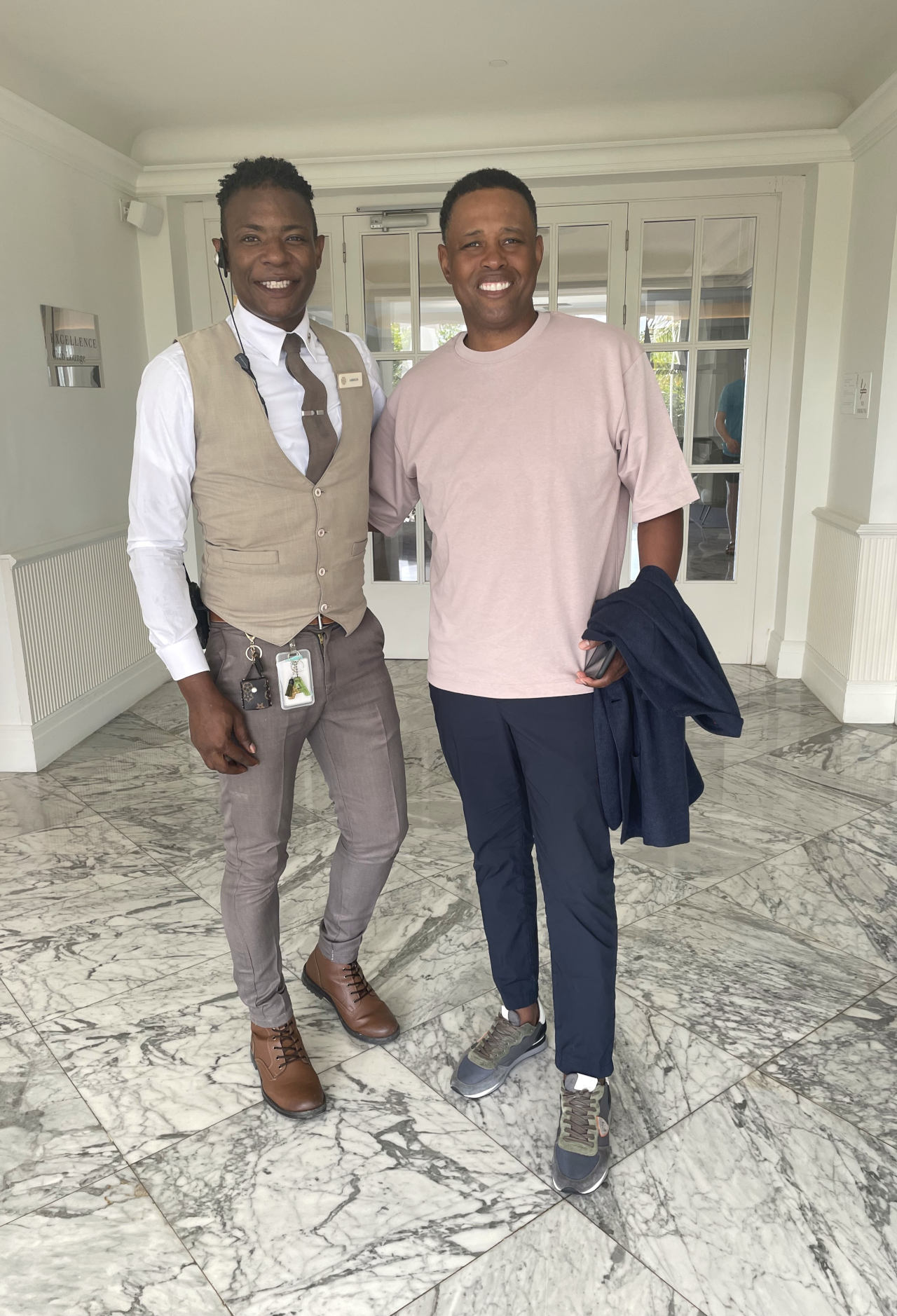 With Airrion at the villa
Shakira Flynn, an Oyster Bay manager and Airrion Foote, my personal butler escorted me to paradise: A private 1,510 sq ft luxury beach villa with its own pristine beach and lounge chairs, top shelf wines and spirits, complimentary Cuban cigars, and a personal happy hour mixologist.
There was hot stone and aqua therapy at Miilé Spa, a fitness centre, complimentary laundry service, 24-hour room service, an infinity pool, hot tub, paddle boards, personalized bicycles, airport transfers, and the list of amenities goes on and on.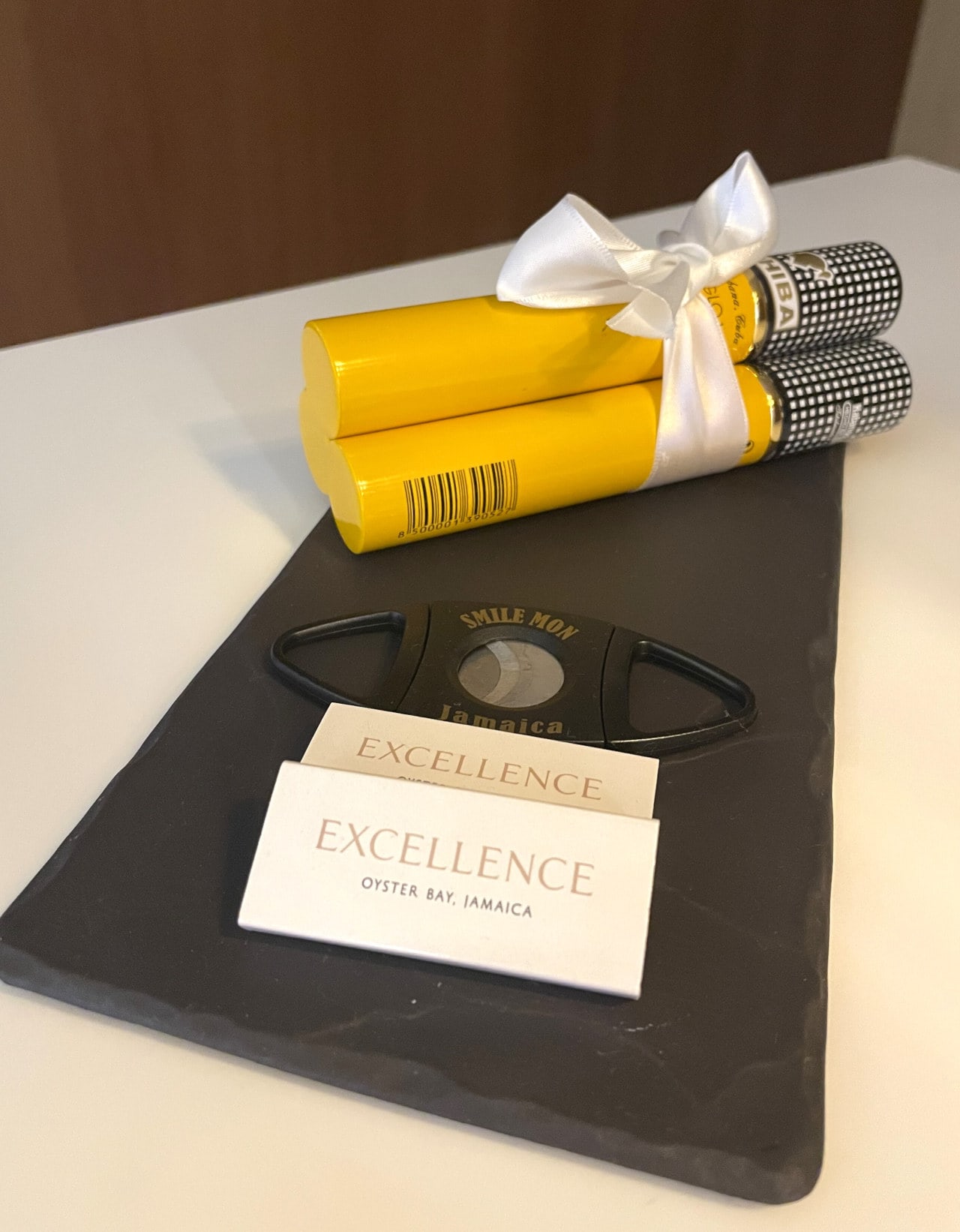 Complimentary Habana, Cuba, Siglo VI cigars and accessories
A beautiful, upscale Caribbean resort asks for effortless, elegant bespoke pieces in breathable classic fabrics like fine cotton voile, linen, and silk. Smooth, luxurious silk keeps you cool and comfortable and can help reduce skin irritation.
Outdoor living at the villa called for an easy, breezy two-piece Md silk set alongside a good morning sip and smoke with a Cuban Cohiba and coffee or scotch (because it's always five o'clock on holidays).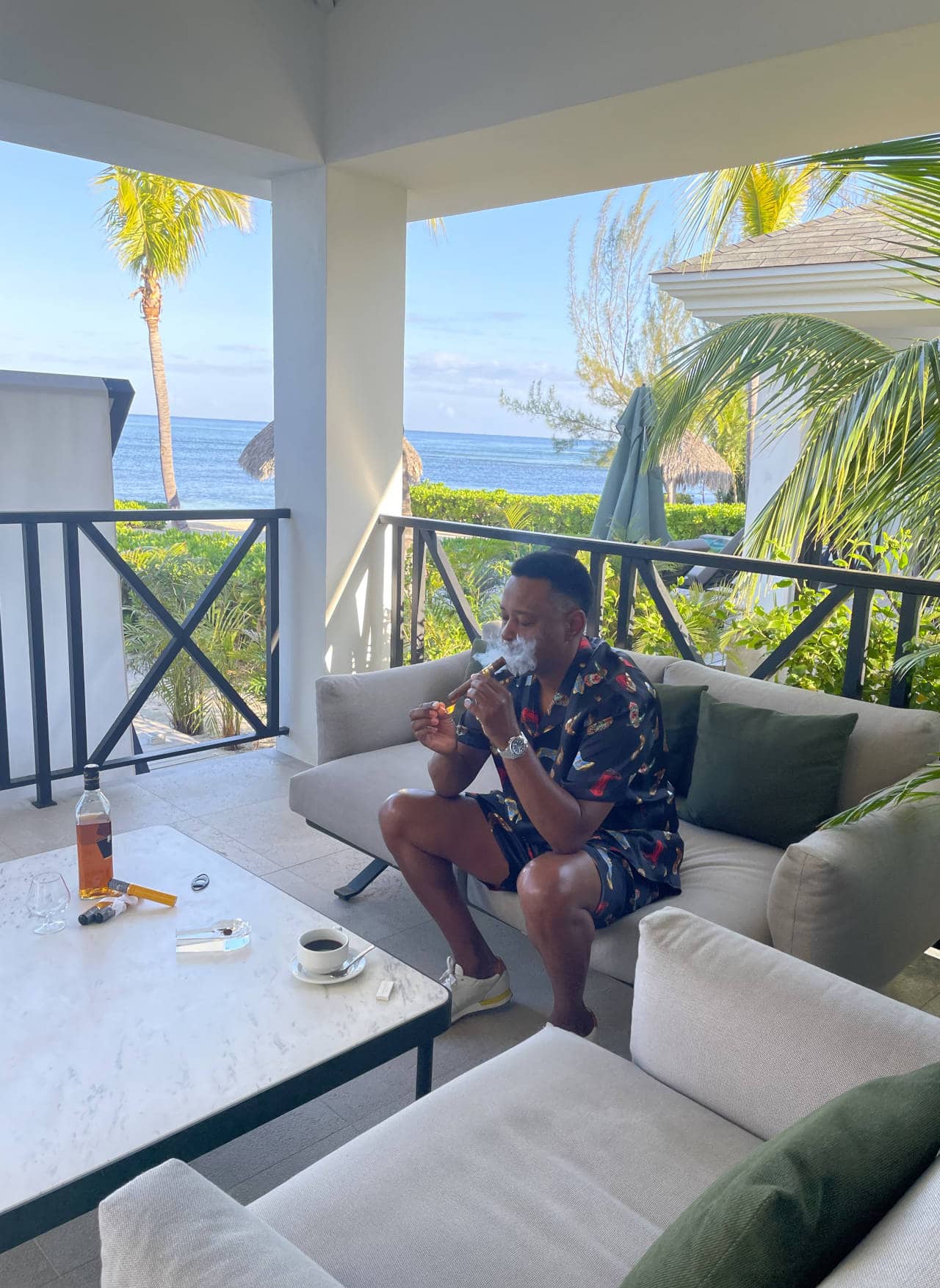 In my Md Bespoke silk set
As travel will influence personal style choices and reflect cultural aesthetics of popular destinations, my wardrobe changed with my daily activities. For an off-resort experience, I opted for a simple, relaxed island look: bespoke shorts and t-shirts with a pair of slides.
Sammy from Maxi Tours drove me out to Treasure Beach to catch a small boat that took us to a sandbar about a kilometer offshore to introduce me to Floyd's Pelican Bar, a unique, stilted structure made of driftwood. A great place for authentic West Indian food, reggae, a game of dominos, some Red Stripes or rum punch, and a chat with Floyd and some locals.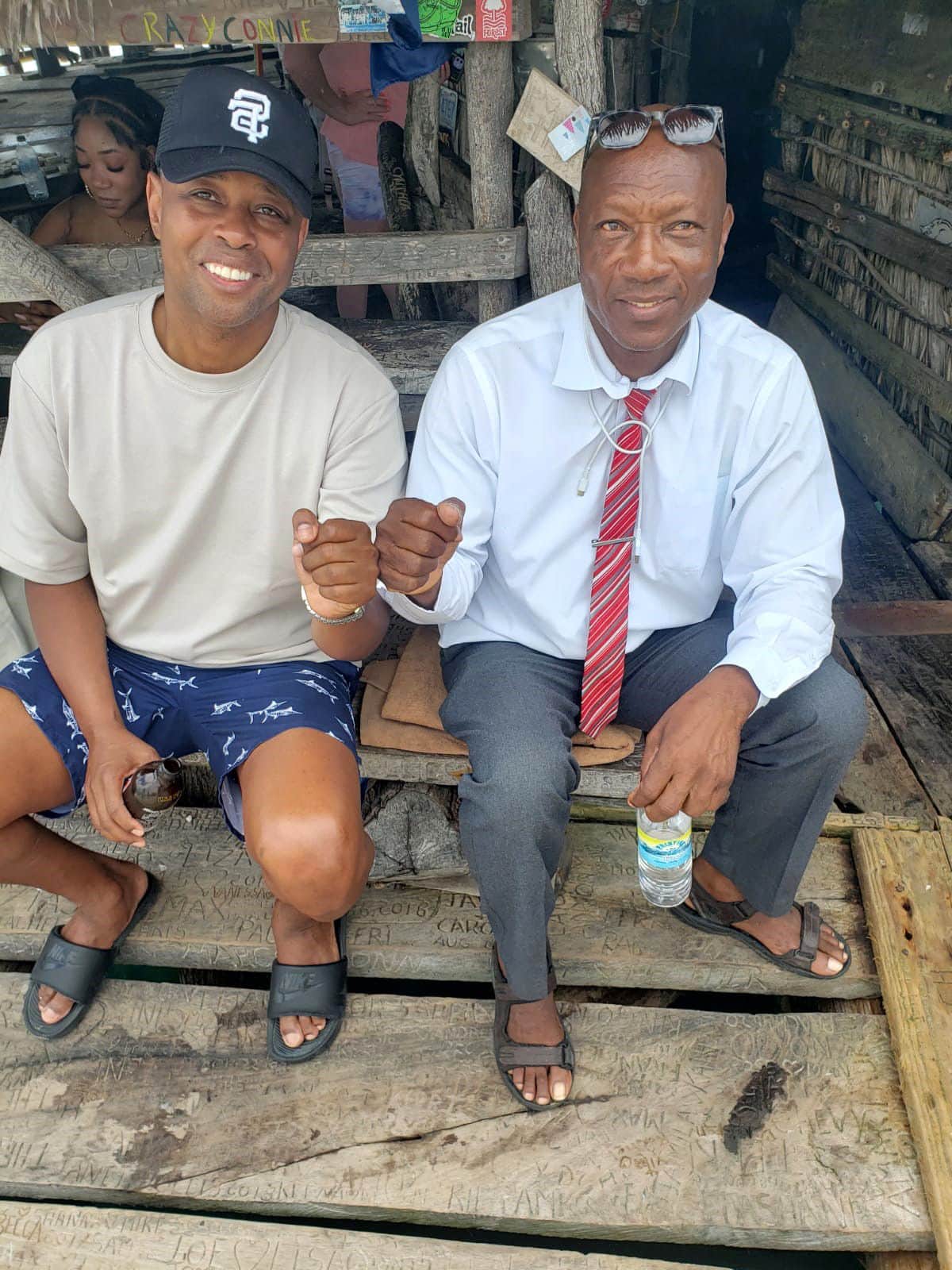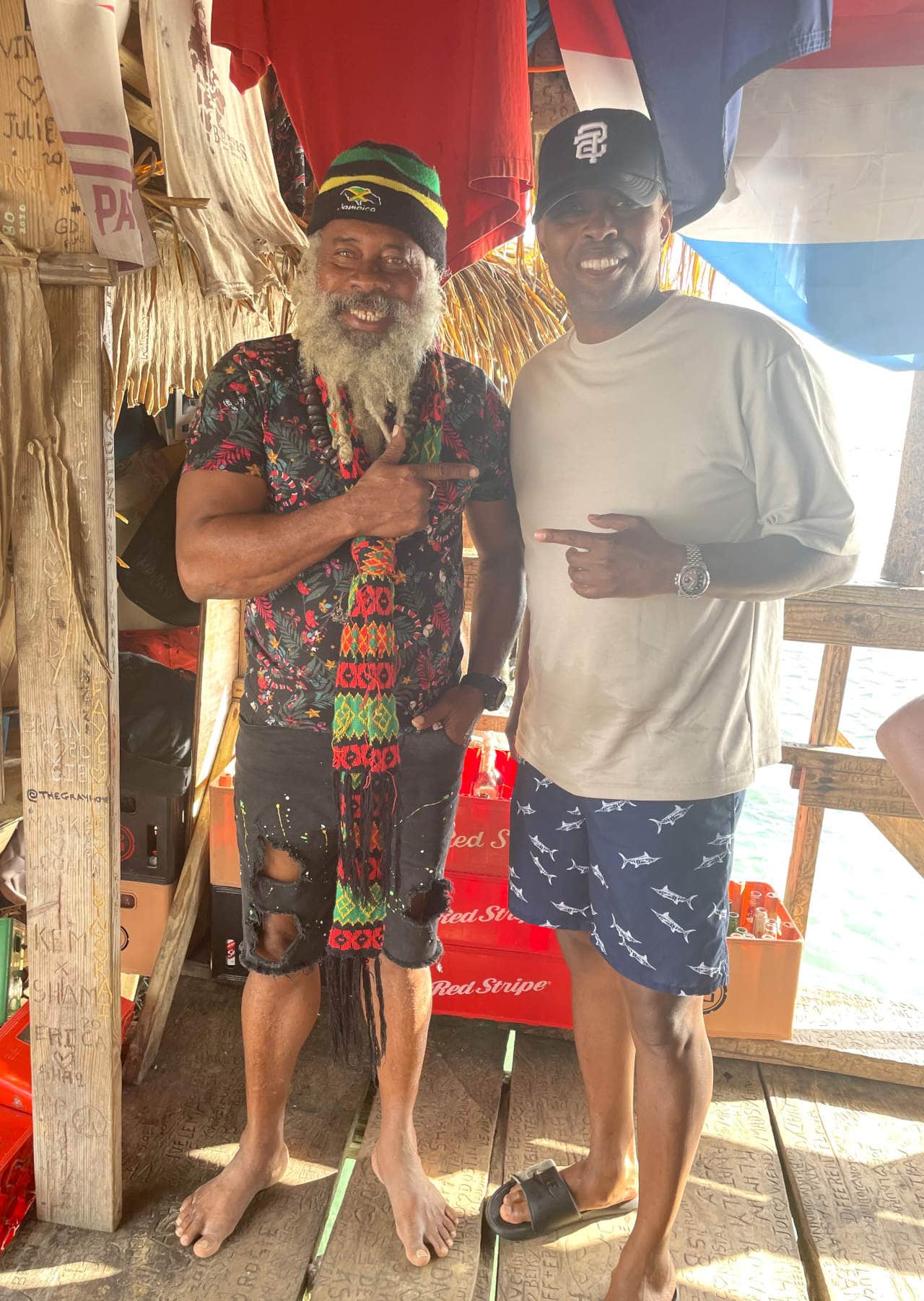 Me and Floyd at Floyd's Pelican Bar
Go with classic linen when in the tropics
I couldn't go without leaving my mark, literally – they will engrave your name right into the driftwood. If you ever get the chance to visit Floyd's, look for Md Bespoke.
Classic linen is a must for the tropics – cool, comfortable, and characteristically crinkled. A good choice for seeing nighttime entertainment like the incredible Bob Marley cover band at the central Oyster Bay resort!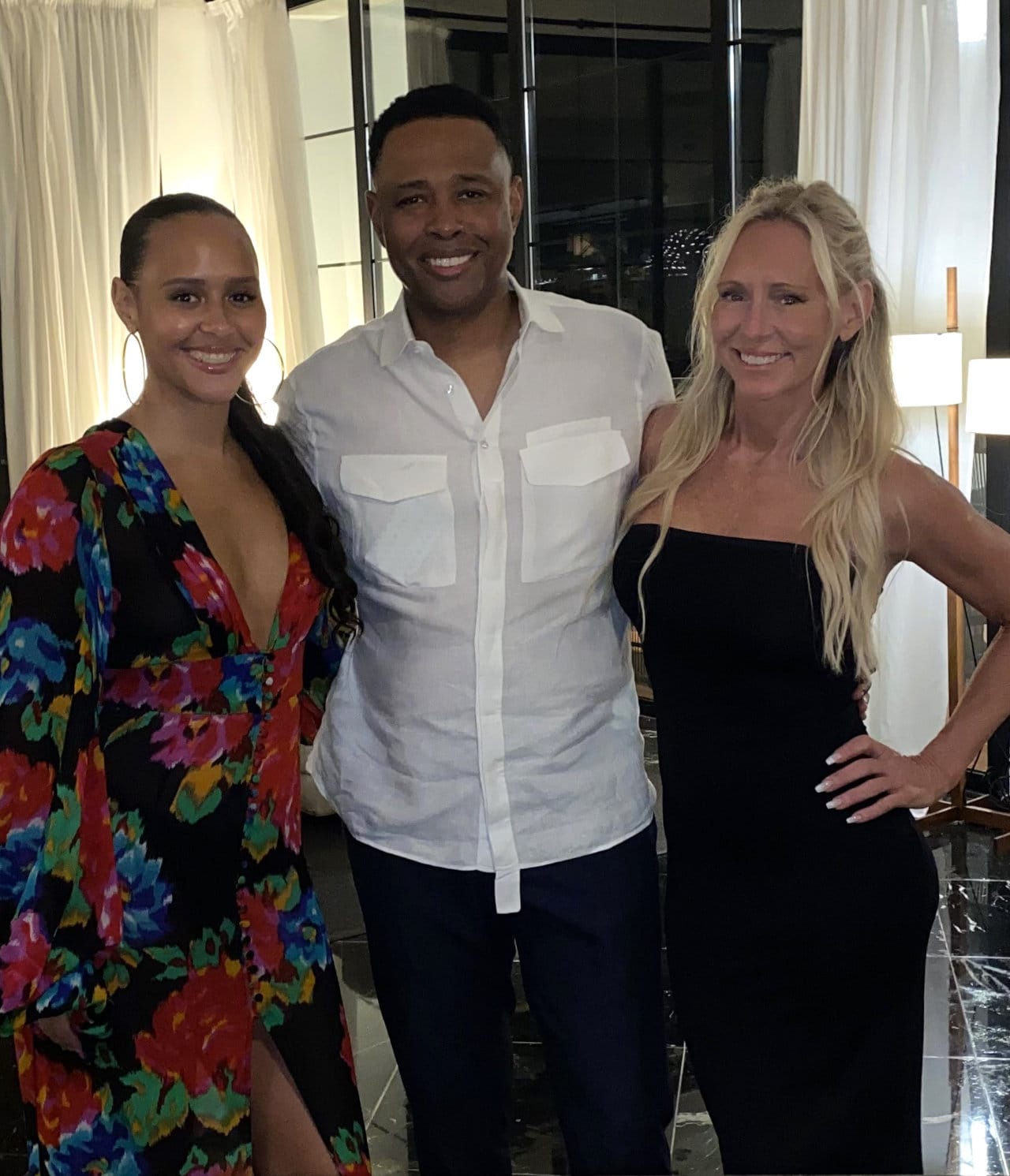 In classic linen with family
I had the pleasure of meeting Erick Sanchez, general manager of Excellence Oyster Bay. He took the time to show me around the immaculate property and gave some history about the Excellence Collection. Erick was engaging and passionate about the resort which made me even more excited about staying at Excellence Oyster Bay.
With Erick Sanchez, GM of Excellence Oyster Bay
Effortless style and comfort
Evenings at the resort asked for bright, elegant, breathable pieces in refined fabrics like Voile and other fine cottons. Dining at one of the eight restaurants on the property was always a reason to dress up – this semi sheer turquoise blue Swiss Voile bespoke shirt (below) kept me effortlessly crisp and fresh all night.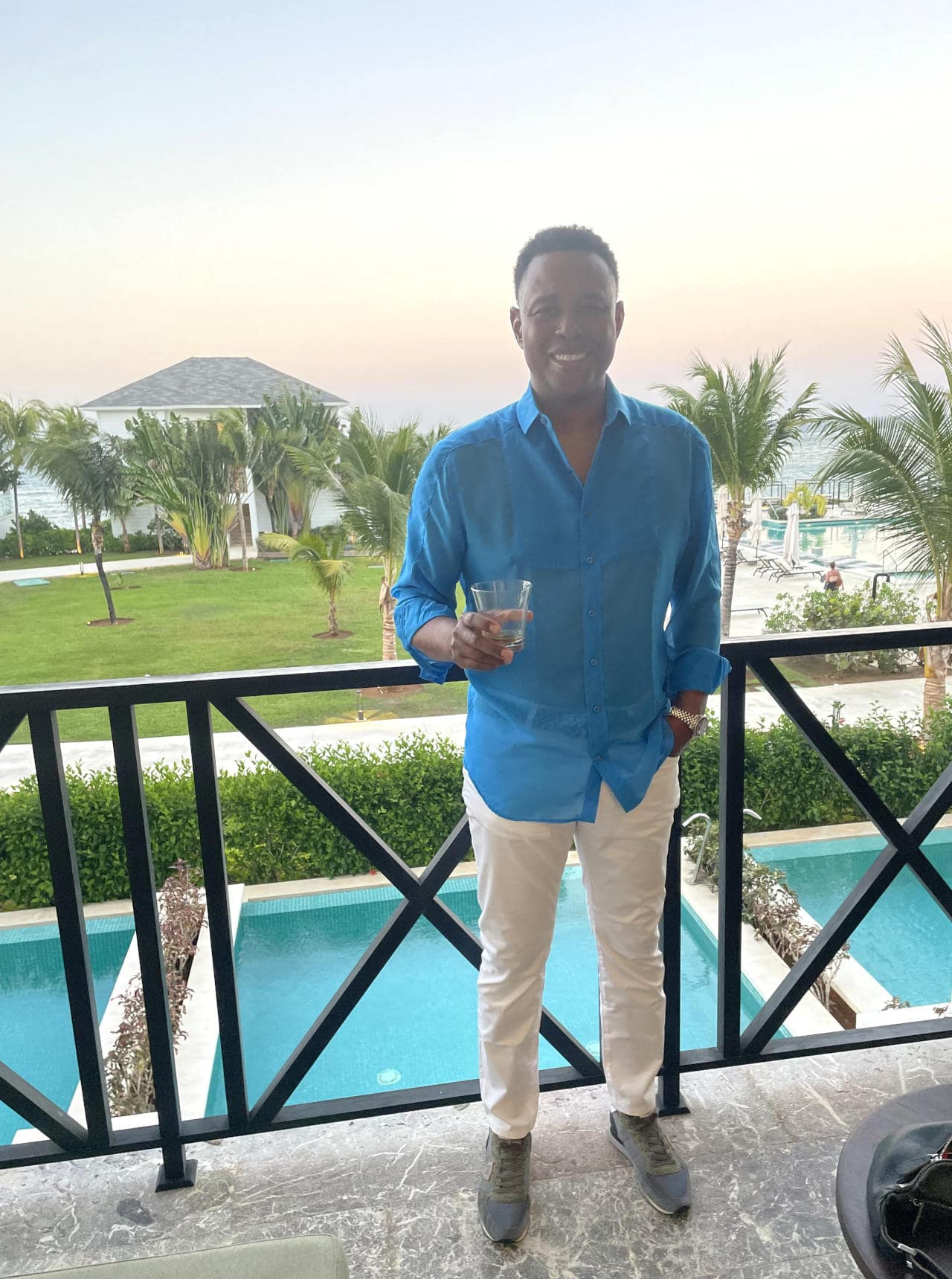 Keeping cool in a Swiss Voile bespoke shirt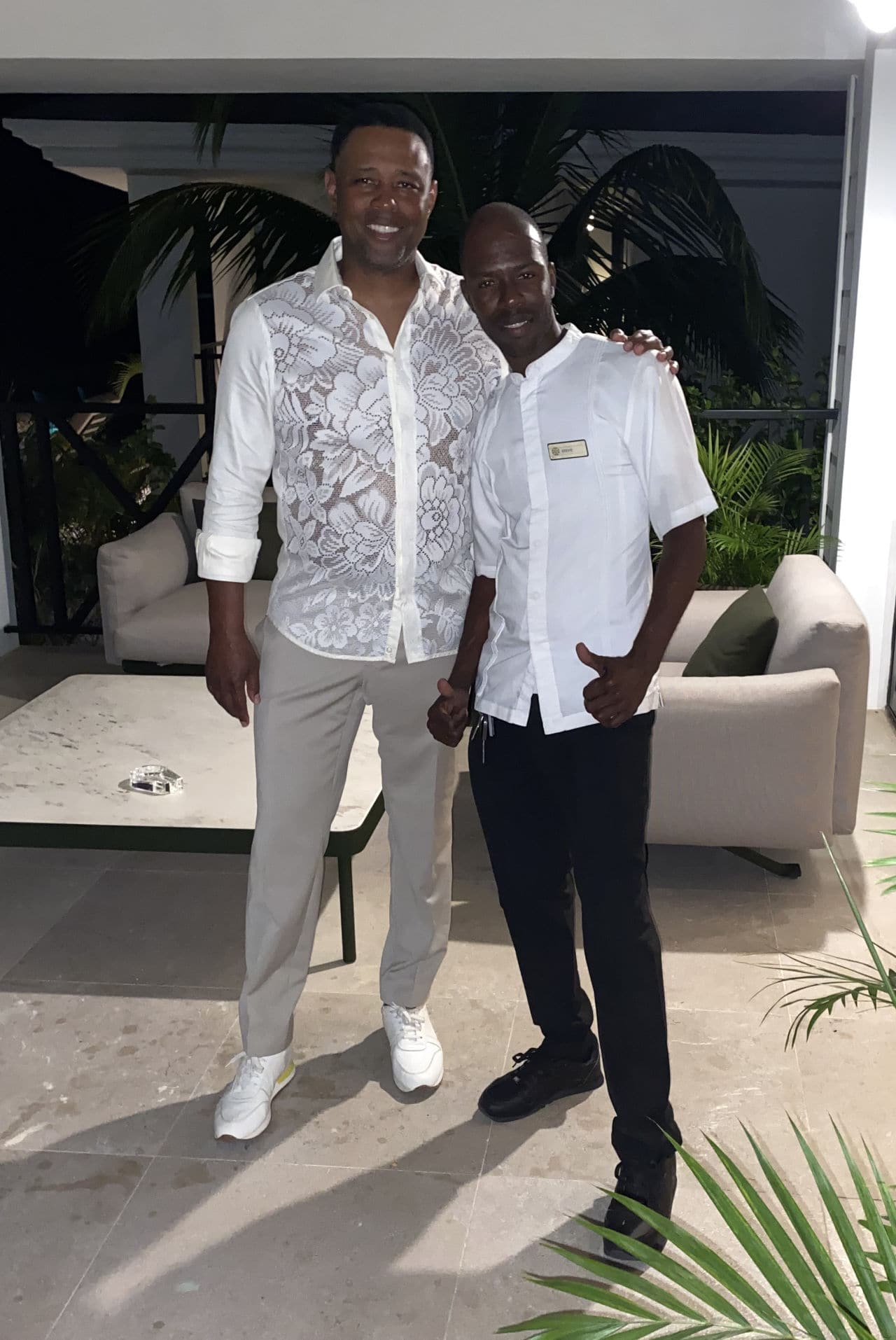 In a cotton lace front bespoke shirt with mixologist, Steve Francis, aka Steve "On the Rocks"
As travel, personal style, and a bespoke lifestyle continue to evolve together, it won't be a stretch to feel right at home, no matter what your destination.
Thanks to…Oyster Bay Excellence Resort management and staff for their incredible hospitality, our mixologist, Steve On the Rocks for the Bob Marley shooters, Sammy at Maxi Tours (876 365 4010) for the professional, punctual service, and Floyd's Pelican Bar (IG @official_pelican_bar / 876 354 4218).
Top image: View from the beach villa at Excellence