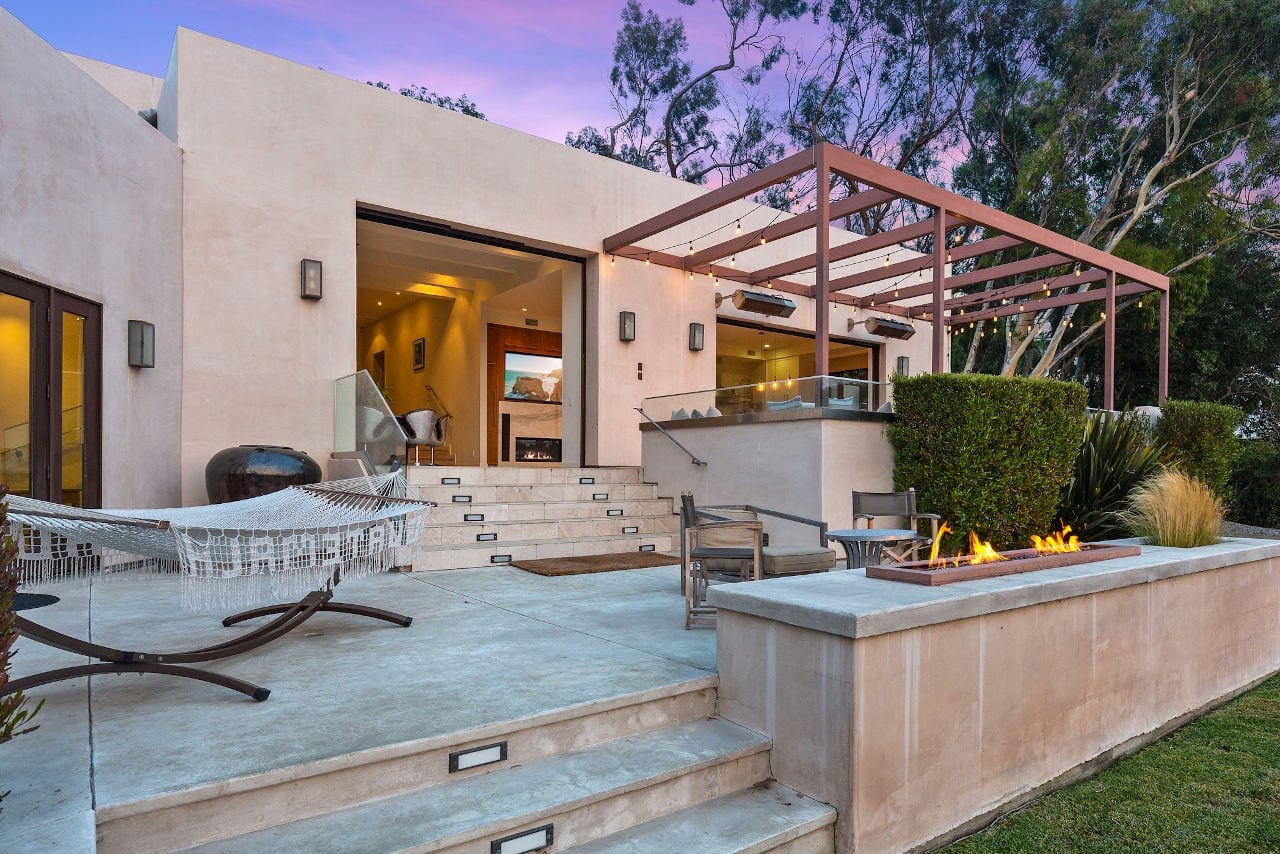 All three of the brothers from Australia are actors. Luke began acting in an Australian soap opera in 2001. Born in Melbourne, Luke and Chris live on the coast of Byron Bay, Australia, with their wives and kids. Chris first caught our eye on screen as Kirk's dad crashing a starship into evildoers in Star Trek (2009). We liked him more in Bad Times at the El Royale. Then there are the Avengers and Thor Marvel movies. I think those ones made a bit of money, no?
Celebrity homes: Free spirits
Liam is back in Australia after his split with Miley Cyrus. There is a rumour that he has joined his brothers in buying property in Byron Bay.
All three brothers are known for their free spirits, spending much of their youth exploring and surfing. Tight knit, it's no surprise then they would partner up to buy a family-vacation home with views of the Santa Monica Mountains and the Pacific Ocean.
Click on image to enlarge and view gallery
The home Chris Hemsworth and his two brothers sold is 4,612 square feet. It has four bedrooms, four bathrooms – an ideal getaway from the nearby film studios. For the rest of us, it's California living at its absolute pinnacle. If you haven't been, there's a vibe to California that can only be described as zen-like. There's a soulfulness to the place. Malibu is truly special, an escape from the harried and hectic city living many of us are accustomed to.
We have written on celebrity homes in the past, and Malibu is a popular location.
Striking modern architecture in an open floor plan captures the views and optimizes California indoor/outdoor living. Securely gated, it has a long drive to the entrance. It offers lush landscaping and exterior lighting to create a welcoming ambiance for both residents and their guests.
Wide sweeps of polished concrete floors set off the white walls that offer space for art collections. And the open floor plan that spills out onto the dining terrace offers ample room for entertaining, dining, or just enjoying conversation around either of the two fire pits. Included are a sauna, a 750-bottle refrigerated wine cellar, a home theatre and a library with built-in bookshelves. The chef's kitchen includes restaurant-quality appliances.
Below the entertainment terrace, landscaped lawns slope downhill, with horses in view through the back hedging. The master suite has Calcutta gold marble in the bath and two walk-in closets.
Eric Haskell of The Agency repped the sellers while Chris Cortazzo and Susan Saul represented the buyer.
Chris Hemsworth, meanwhile, is scheduled to star in the next Mad Max movie. Now that is something to get fired up about.