Santa Teresa is one of the world's hidden gems, located in the Nicoya Peninsula of Costa Rica. There is world class surfing year round, white sand beaches and a variety of celebrities hang out in the area.
Related: Private investors: First ever tourism bonds introduced for Costa Rica
Approximately 4,000 residents live there year round. It's gaining popularity for its growing list of accommodations, and cuisine from every corner of the globe. And of course untouched, pristine beaches. Jungles are misted by the crashing waves of the Pacific Ocean coast. If all that isn't enough, the photographic sunsets are some of the best you'll ever see. That's why in the eyes of many Santa Teresa is quickly becoming the next Tulum.
World-class beaches and vibrant coral reefs
Like Tulum, the backdrop for Santa Teresa is a variety of untouched and historically preserved tropic jungles. Located just a mile south of the town of Santa Teresa is Cabo Blanco Nature Reserve. The Cabo Blanco Absolute Natural Reserve is part of the Tempisque Conservation Area in the province of Puntarenas. It covers an area of 3,140 acres terrestrial and 4,420 acres marine on the southern tip of the Nicoya Peninsula near Mal Pais.
A massive population of Red Macaws are in the area. So don't be surprised if you happen to see one of these majestic red and rainbow birds on your travels to Santa Teresa.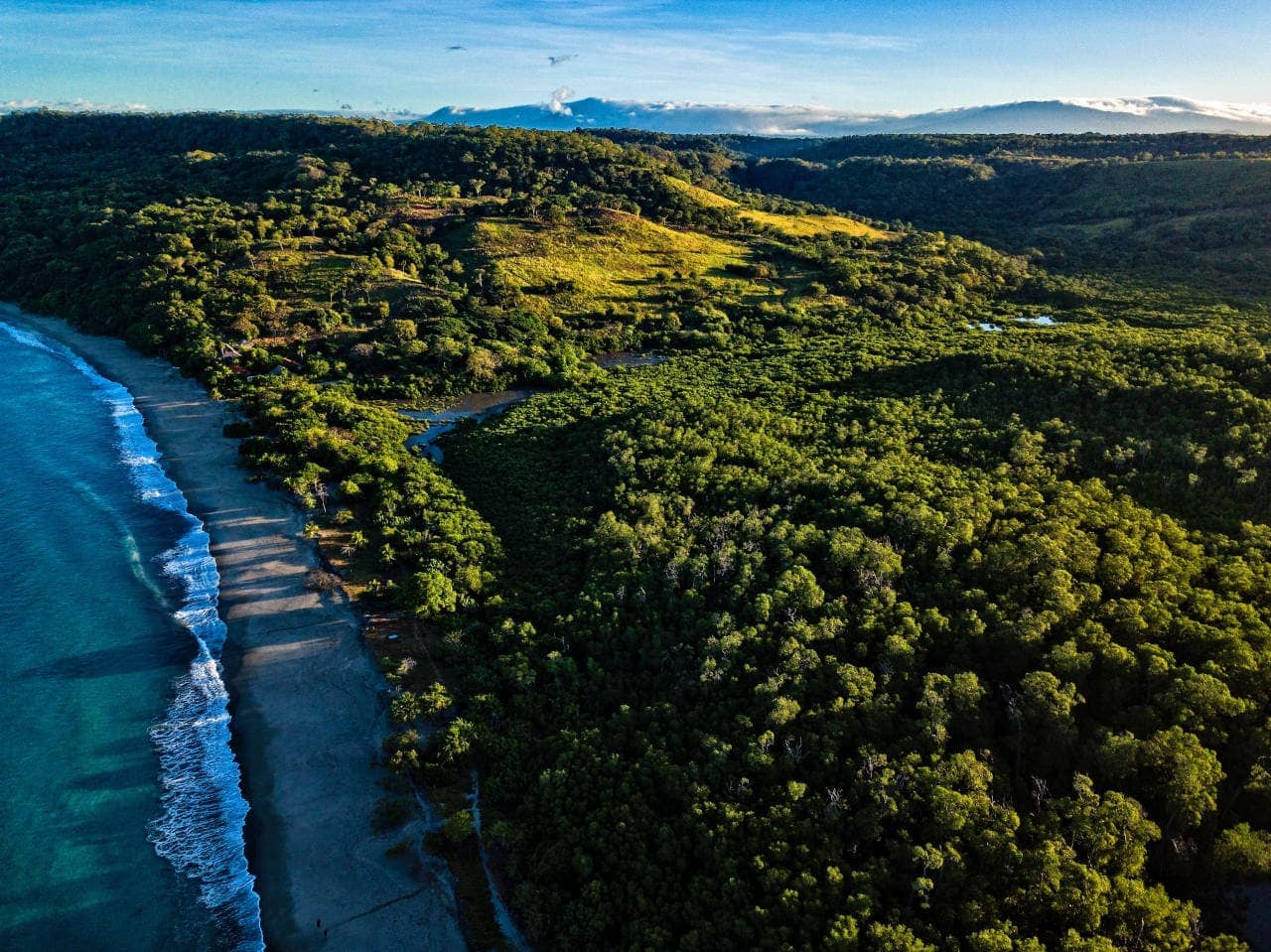 In Tulum you swim the vibrant coral reefs of Jaymes Beach. In Santa Teresa make a quick trip over to Playa Suecos (also known by locals as the secret beach) with a snorkel. There you're likely to see vibrant coral fish and large sea turtles. You'll even find larger wildlife like sharks (harmless and uninterested in humans) or barracudas.
If you've ever sped through the Mangrove Forest on a zip line in Tulum you'll know that Costa Rica is quite a destination for zip lining adventures. Santa Teresa is a few minutes away from zip lines close to Cabo Blanco National Park. ATVs are still popular here. And it isn't quite as modernized as Tulum, many of the roads remain unpaved.
Beach-side dining and laid-back crowds
Those who love to sit back with a cocktail and sunbathe by the pool at Ethan's Casa Del Mar Beach Club can appreciate some of the ocean-side bars Santa Teresa has to offer. Pranamar beach resort Tiki Restaurant and Bar is right on the beach in Playa Hermosa de Santa Teresa.
A more laid-back crowd gathers for informal dining on the beach at Banana beach. Every Monday night everyone gathers to watch the local surfers compete with the judges calling the action with the best soundtrack to accompany the scenes.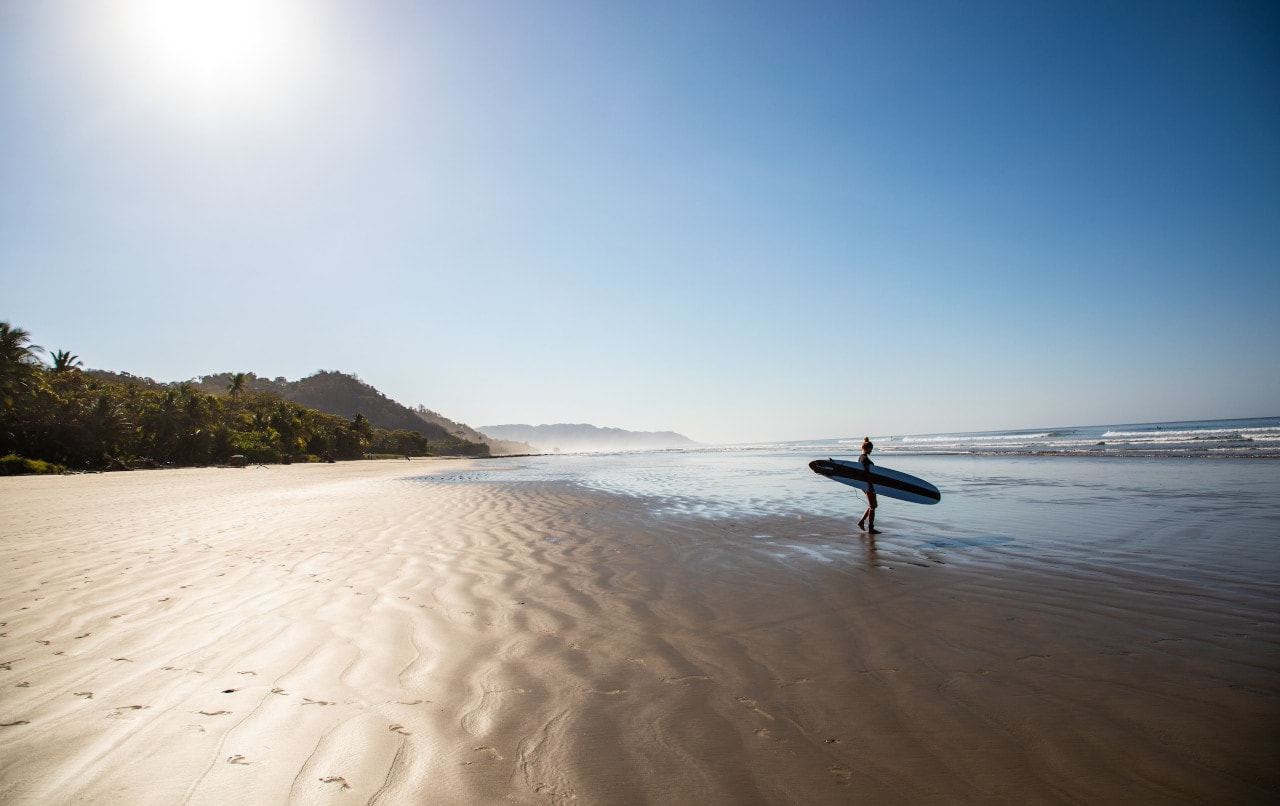 Image: Cris Young, Shutterstock
Further down the road closer to Mal Pais, Santa Teresa, you can sit in a more secluded cove at Las Caracolas beach front restaurant. Sipping a cold sparkling beverage at Las Caracolas with a plate of their patacones (fried plantains) is one of the most satisfying and relaxing dining experiences anywhere.
Be sure to try the casados (plate of rice, beans, salad and meat or fish), otherwise known as the local typical food. You will quickly fall even farther in love with Costa Rica.
Crystal clear waters and the world's largest cenote
Tulum is famous for the crystal waters of El Gran Cenote, the largest cenote in the world. Santa Teresa is home to many gorgeous tide pools, uncovered by the low tide each day. Locals know the times of the tide. Get into the pools the first chance you can get as the tide lowers. So check the times and try to get there early to dip into pristine ocean water while the little fish swim around you in a tide pool.
It's easy to see why Santa Teresa is said to be the next Tulum. With a fraction of the population of Tulum, Santa Teresa is still considered remote and relatively under-developed at this point. It's a hidden gem in Central America and one of the most popular tourist destinations in Costa Rica.
Top image: Daniel Avlis, Shutterstock