"Ciao Ferrari," is the voice command needed to start up Ferrari's SF90 Spider – the first 1000hp plug-in hybrid with a folding hardtop.
"It delivers a brand new driving experience. The level of technology of innovation, the endless performance, the connection it immediately creates with the driver and the ability it has to bring him beyond his capabilities, this all sets a whole new benchmark," says Emanuele Carando, head of product marketing for Ferrari. "The performance is astonishing. It reaches 200 kilometers per hour in seven seconds and zero to 100 in 2.5 seconds. The most powerful Ferrari ever developed."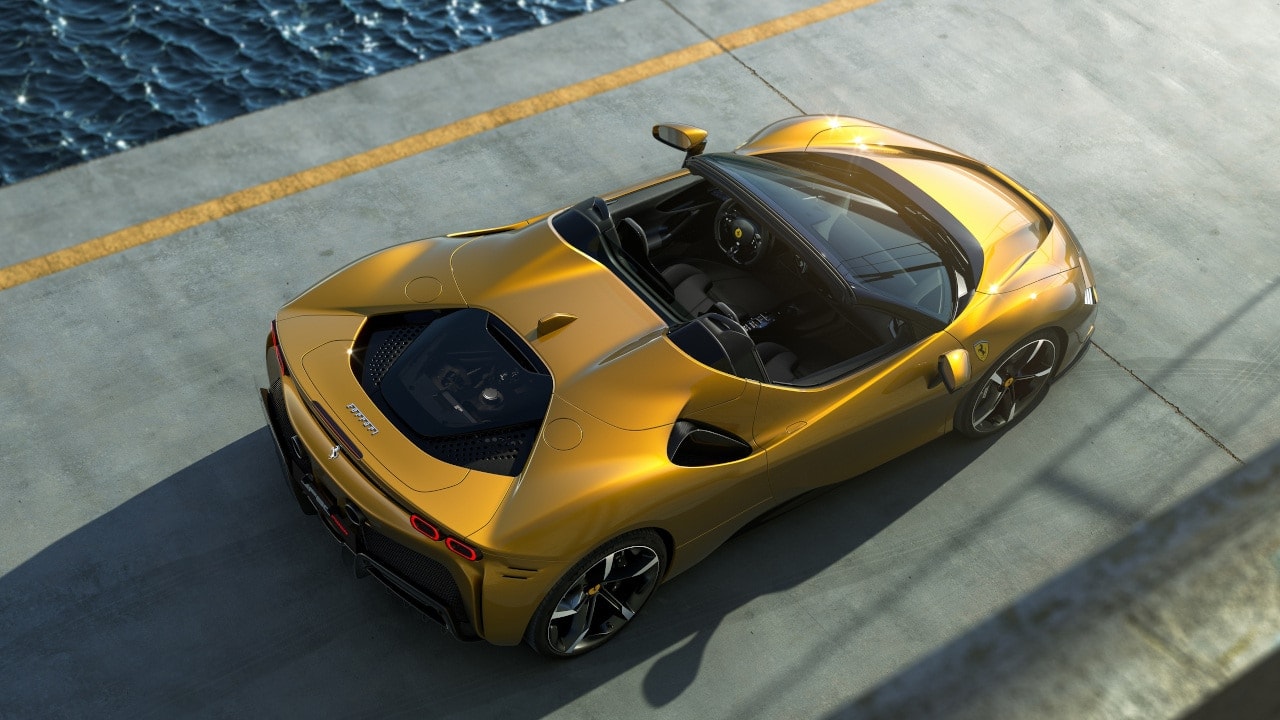 "The engine is the soul of a Ferrari," Enzo Ferrari.
While hybrids, electric vehicles and going green is the global trend, Ferrari won't be ditching fossil fuels anytime soon. The company's CEO Louis C. Camilleri told shareholders in an annual meeting this year that he remains skeptical.
Related: These five supercars waiting in the wings for 2021 will rock your world
"I really don't see Ferrari ever being at 100 percent EV," Camilleri told the Robb Report. "And certainly not in my lifetime will we even reach 50 percent."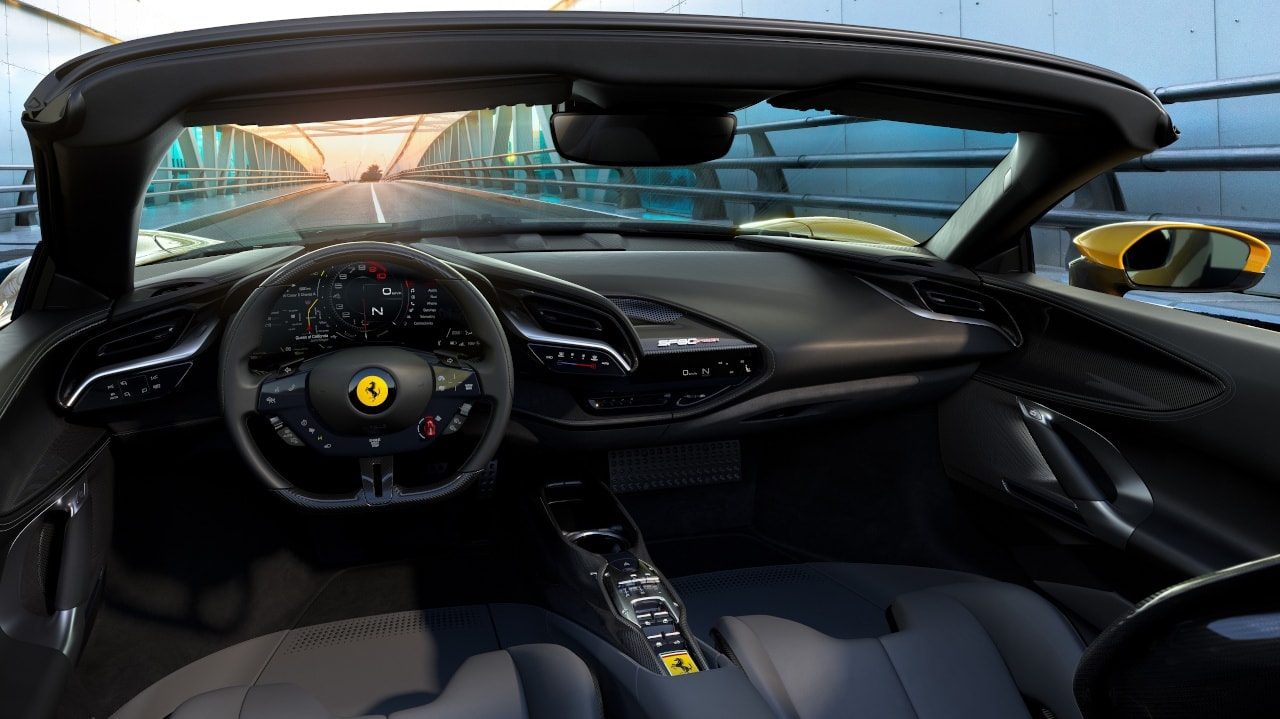 Why the need for electric?
"Imagine you want to test your car in the morning but you don't want to wake up the neighbourhood. You can go in electric drive, 25 kilometers and up to a speed of 130 kph," says Ferrari's chief technology officer, Michael Leiters.
Click on image to enlarge and view gallery
The SF90 Spider has four different power modes:
eDrive – ideal for a downtown drive, full electric drive with a range of up to 25 km and can reach a speed of 135 km/h.
Hybrid – default mode, perfect for everyday drive, the car decides independently how to deliver the energy, electric or internal combustion, objective: efficient energy usage. The power of the electric motors, however, are limited to reduce battery consumption.
Performance – nourish your sporty attitude, good on winding roads or track racing.
Qualify – top and full capacity, to enjoy ultimate performance and the thrill of the track and allows you to reach 1000 hp of maximum system power as even the electric motors are allowed to work at their maximum power.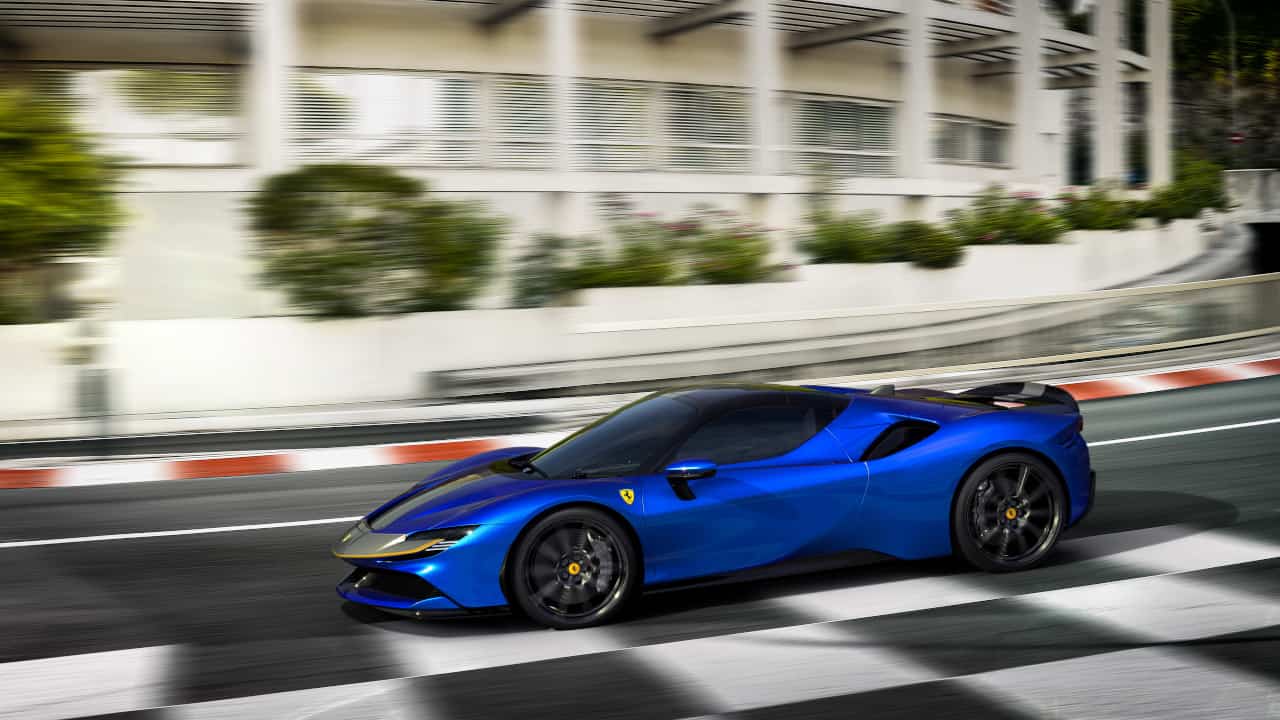 Like the SF90 Stradale, the SF90 Spider is also equipped with on-demand all-wheel drive. That's an absolute first for the sports cars of the Maranello company that allows the car to become the new reference for standing start: 0-100 km/h in 2.5 seconds and 0-200 km/h in 7 seconds.
Like the SF90 Stradale, the SF90 Spider also offers a special set-up available on request to make the car even more performing and sporty. That includes shock absorbers derived from the experience of the Prancing Horse in the GT competitions. It also includes extensive use of special materials such as titanium and carbon that lighten the 21 kg car, a rear spoiler in carbon fiber and Michelin Pilot Sport Cup2 tires.
Price €473,000 ($739,997 CAD) including VAT, delivery in the second quarter of 2021.
Criticism – Are loyal Ferrari owners being betrayed?
"The SF90 is a stunning car. There is no doubt about it. It's got the latest F1 tech … a thousand horsepower. It's got all the gizmos you could ever want … looks pretty mean. (The SF90) should be the car I want more than anything in the world," says Damian Justin Butt of The Car Guys.TV.
"What concerns me the most as a Ferrari customer and remember, a Ferrari fan, a member of the Tifosi (fan club). I love Ferrari, I always have. But this new public ownership phase and increasing production numbers is really being done at the expense of the loyal Ferrari fan."
Is Ferrari moving into mass production?
Butt, publisher of the now-defunct magazine, Imagine Publishing, is concerned that the iconic brand will stray away from custom-tailored cars aiming for a niche clientele and move into mass production.
"These cars are coming in more quickly. They're being replaced. You haven't gotten your latest car yet and already they've announced the replacement. Which means yours isn't as special. And it means it's worth a lot less. This is happening more and more. And I think this SF90 Spider is just the latest example," says Butt. "How pissed off must you be if you order an SF90 a year ago. You haven't had it yet and now they've announced the Spider. Are you going to cancel your order for the hardtop?
"It's just so sad because when you buy a Ferrari, you want it to be delivered. You want to be able to enjoy it for a bit. And you do not want its obsolesces rammed down your throat the minute you buy it or before you bought it."
IMAGES: FERRARI