Choosing a bike that suits your lifestyle
Now, whether you're looking to show off who you are when out on your wheels or are more concerned about the environment, there are a wide array of bikes to choose from. But, if you're anything like the fellows about to be mentioned, look for a machine that showcases your lifestyle. When it comes to city cycling, choose something that showcases your true M.O.
Bicycles are an incredibly efficient way of getting around the city. But it turns out that they are stylish too.
Now, you may like how Floyd "Money" Mayweather rolls, but, remember, he doesn't only roll in his Rolls. Or his Bugatti. Or his Ferrari. Or his – you see where this is going. Floyd has tremendous balance in the ring (what with his perfect, 50-0 record). But he may not need balance while cruising around on two wheels with his buddies or entourage.
When it comes to his bike, Floyd opts for a super fat-wheeled model. And while, yes, Mayweather's got his choice of fancy automobiles, when he pedals, he tends to pedal on something like the Radrover 5 Electric Fat Bike.
It was the EBR Choice Product winner of 2020. A Radrover will typically retail for $1,500. It's got a 750 W geared hub motor, and can reach 32km/hr. The bike also includes Tektro mechanical disc brakes and will take about six hours to charge to get you 45 – 72 km. But that also depends on how much you assist with pedalling.
This is certainly not a bad alternative when you consider that Floyd's Bugatti would run you about $2.5 million.
If you're looking for more of a sporting bicycle (you know, for fitness purposes), check out Pretty Boy's one-time opponent, Conor McGregor's, custom carbon FiftyOne.
This is the bike he's known to clock tons of kilometers on when training in Las Vegas. Conor, estimated to be worth a cool $85 million, took to this bike when he was training for Mayweather in 2017. He hasn't looked back.
This bike spares no expense, estimated to cost about $10,000. The steep price is justified by taking a look at the specs. It's equipped with a SRAM Red eTap groupset and Zipp's sawtooth shaped 454 wheels.
Now, this is not an E-bike. So, if you're looking to get in McGregor shape, you've still got to put that roadwork in.
Finally, if you're anything like the wildly successful, Oscar-winning actor, Leonardo DiCaprio, you want to both look stylish and do right by the environment. DiCap often bikes around New York City, where driving an actual car is near impossible.
True, this master actor rides a Citi Bike that you can pick up from virtually every street corner and rent for the day. But he's also been known embrace city cycling riding E-bikes like the Ultra Motor A2B Metro.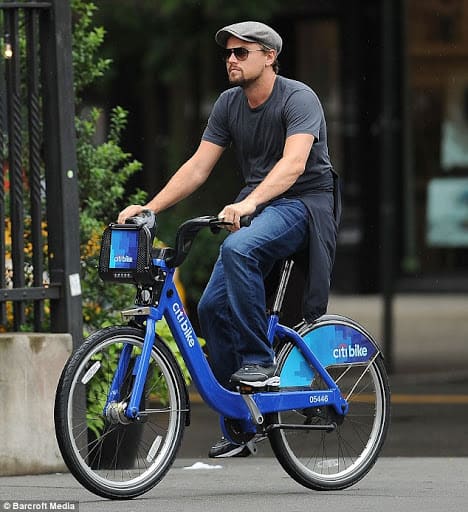 This model has full suspension, a comfort seat (making it feel a bit like a Vespa scooter), a high power, and a 500-watt gearless rear hub motor. What the bike doesn't do is cause noise. With a cost of around $3,500, is in between Mayweather's and Conor's bikes in terms of price-point.
So, whether you want to ditch the car because you're in a dense city or you'd just like to feel the wind on your face on a casual Sunday, there's no reason not get on a bicycle again. They're clearly not just for kids anymore.
For a full list of celebrities who embrace cycling, head here.
TOP IMAGE: CONOR MCGREGOR, INSTAGRAM @MCGREGORFAST